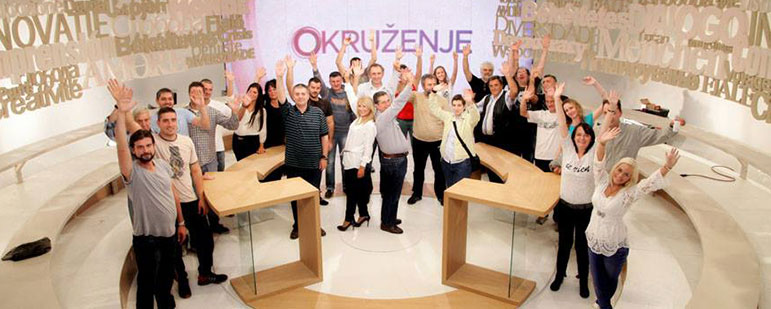 Television is a universally accessible and powerful medium which is a helpful tool be used by the civil society to educate, engage and inform the public. With the vision of fostering reconciliation in South Eastern Europe by approaching a broader audience in the region and offering a frank exchange of ideas in an open debate on issues that negatively affect the neighbouring countries, the European Fund for the Balkans (EFB) and the Center for Democracy and Reconciliation in SEE (CDRSEE) decided to join forces in creating "Vicinities", the first ever SEE current affairs regional TV talk-show.
Starting in April 2012, the TV programme series was broadcast in prime time on a weekly basis in 6 countries of the region, on national and local TV stations. As the pilot series surpassed all expectations, it evolved into a more ambitious project with new seasons consisting of a series of debates, with additional support from the German Ministry of Foreign Affairs.
The idea was to gather people who speak mutually intelligible languages and spark dialogue between people of the countries of the region who may have different points of view, but don't have a language barrier. The language was the least of a concern when it came to the conversations since the absence of dialogue and communication proved to be a much greater obstacle. That is why "Vicnities" expanded its partners list and guests in the studio to those who speak Albanian, thus 'covering' the region of former Yugoslav countries and Albania.
In each episode of its 6 seasons, Vicinities was emphasising the dialogue between citizens of the Balkans, their shared values and history and the need for regional cooperation.
Expert guests from across the region were gathered in a studio with a live audience to discuss regional political relations, economic difficulties, security challenges, as well as social trends that affect citizens in their everyday lives. The show has tackled some of the following topics: surviving the economic crisis, global powers and the Balkans, regional cooperation, transportation networks, learning democracy, youth unemployment, and climate change.
In 2016, Vicinities received the Media Initiative of the Year Award by the European Citizenship Awards jury.
All of the episodes are available online.