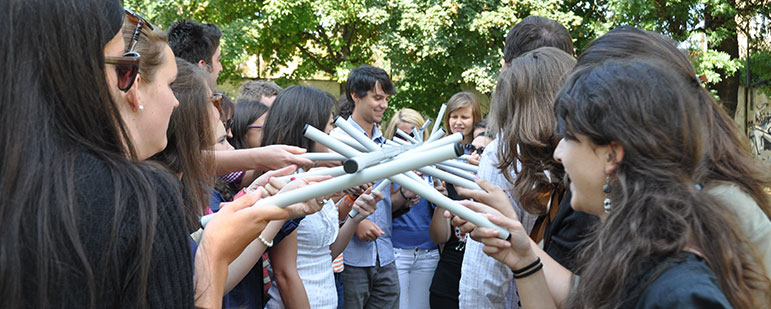 Timeframe: 2006 – 2013 | 7 generations, 203 Participants
The Leadership Development Programme (LDP) was launched in 2006/2007 by the College of Europe and the TRANSFUSE Association. In 2008, the European Fund for the Balkans began financing the programme and since 2009 it has been organising it jointly with the College of Europe and the TRANSFUSE Association. The Fund has supported this programme with the aim of promoting European values for future generations – it was envisioned as a catalyst for emerging change-makers and young leaders in Balkan societies and the EU.
By encouraging the spirit of cooperation and identifying new connective tissue for the young generations of the region and the EU, the programme managed to produce a wide network of young ambassadors. Thirty graduate students from Albania, Bosnia Herzegovina, Bulgaria, Croatia, North Macedonia, Greece, Kosovo, Moldova, Montenegro, Romania, Serbia and Turkey were selected each year to take part in the eight-month long "Southeast Europe and the EU – Leadership Development Programme". A limited number of participants were selected from other European countries. The LDP was led by an Academic Dean, who was guiding the participants through the various elements of the programme – Summer Academy, Group Activities and Spring Seminar.
The programme included topics related to the European Union and the development of its relations with Southeast Europe, as well as broader issues of international and economic relations and practical skills development through workshops and simulation games.
The practical aspect entailed group projects in Southeast Europe, where the participants worked together in small multicultural groups to implement a joint activity in their countries. A five-day Spring Seminar in Belgium (Brussels/Bruges) with visits to EU institutions and NATO, and classes at the College of Europe, were also included. High-level practitioners and academics from the College of Europe, the TRANSFUSE Association and the European Fund for the Balkans' networks were invited to share their knowledge and experience with the participants.
The underlying idea of the project was the belief that qualified young professionals with international experience are the driving force for the continuation of the political, social and economic reform and transition processes.