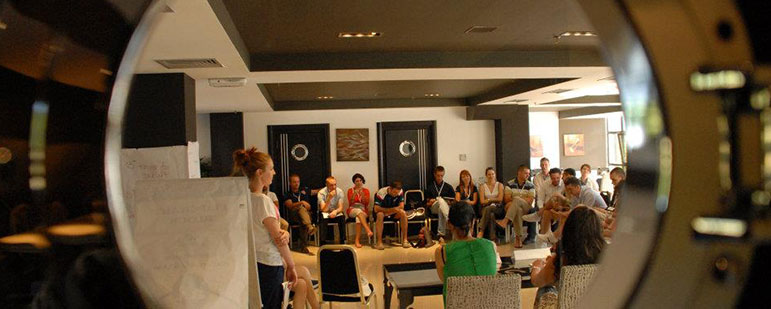 Timeframe: 2008 – 2019 | 11 generations, 210 Fellows
The Fellowship Programme for Government Officials from the Western Balkans was a one year practice-oriented educational programme for civil servants, implemented as a cooperation between the EFB, the College of Europe and University of Potsdam. The programme was inspired by a longstanding tradition, experience and excellence with similar fellowship programmes by one of EFB's founding organisations, the Robert Bosch Stiftung (Bellevue - Programme, Fellowship Programme for Public Servants from CEE).
Each year, up to 20 scholarships were made available for public servants from the Western Balkans who were presented with an opportunity to spend a 3-month fellowship with the respective government institutions in Austria, Belgium, Czech Republic, Estonia, Finland, France, Germany, Italy, Ireland, Netherlands, Poland, Portugal, Slovakia, Slovenia, Spain and Sweden. The programme's general objective was contributing to the development of effective and efficient state administrations in the region by offering a tailor-made fellowship and training programme for highly qualified professionals from state authorities and ministries of the Western Balkan countries.
The programme was intended to give impetus to the EU integration-driven reforms of the Western Balkan countries, by generating expertise and knowledge in administrations, through individuals acting as agents of change. By means of a meticulously designed working plan and a combination of language learning, intensive seminars and lectures with prominent speakers, networking activities and visits to EU institutions, the programme managed to introduce a successful exchange of know-how and hands-on knowledge of European principles of administration.
The 11th and – in this form – last edition of the EFB Fellowship Programme for Government Officials from the Western Balkans took place in 2019. The decision to discontinue it was taken after detailed previous strategy and evaluation exercises. This flagship programme was widely recognised as a positive example, not only for exchange of know-how between the Western Balkans and EU administrations, but also for contributing to regional exchange and connectivity.