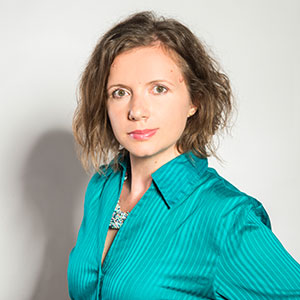 Elena Petkovska Gjorgjievska joined the Fund in 2012 as a Program Assistant and Communications Officer. Since then, she has been closely involved with the realization of the Fund's pillar programs and various supported initiatives and projects. Currently, she is mainly dedicated to communicating the Fund's activities and results across the social and traditional media, but also to the wide network of partners, beneficiaries and different stakeholders in the Western Balkans and EU.
Previously, she worked for 9 years as a translator and journalist for the Macedonian daily newspaper "Dnevnik". Besides her valuable professional experience in the media sector, she was also engaged as a volunteer in the work of NGOs focusing on culture, arts, civic education, social justice and children's rights.
She holds a BA in Slavic Languages, Spanish and British Cultural Studies, Language and Literature from the Faculty of Philology "Blaze Koneski", University SS Cyril and Methodius, North Macedonia, and is currently working on her master's thesis in communications, advertising and public relations at the Faculty of Media and Communication (FMK) in Belgrade. She is fluent in English and Spanish, with basic knowledge of French and German.
CONTACT: elena.petkovska@balkanfund.org