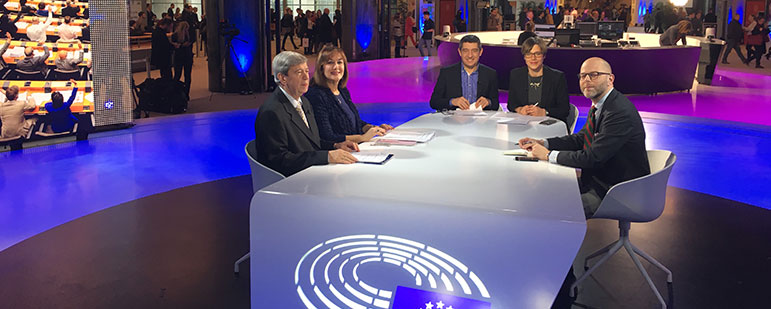 "Balkans in Europe" was a bimonthly TV debate on the most pressing issues faced by Western Balkan countries on their way to EU membership. The format was developed in cooperation with the European Parliament and regional TV station N1.
Recorded and broadcast directly from the studio of the EU Parliament, it engaged members of the EU Parliament, EU Commission officials, other important public figures, as well as experts and analysts from the Western Balkans in an open policy discussion. The debate was broadcast on N1, a regional media news network and CNN exclusive news affiliate with an audience of 20 million people in the Balkans (Croatia, Montenegro, Serbia, Bosnia and Herzegovina).
The goal of the "Balkans in Europe" TV debates was to bring EU issues-related policy debates from closed, expert circles, out into the open, and to educate, inform and engage a wider audience. For this purpose, the EFB was relying on television as a powerful and universally accessible medium, and on organising public debates in the region and in the EU.
European integration and freedom of media in the Balkans, rule of law, new approaches to the EU enlargement and regional cooperation, aftermath of the EC progress reports, the refugee crisis — these were some of the topics of the episodes, all of which available on the EFB official YouTube channel.
(https://www.youtube.com/channel/UCrxshCEPws6GLi3SzvcxvCQ)